LG Electronics si aggiudica al CES 2017 il 'Best of the Best Awards'
LG Electronics si aggiudica al CES 2017 il 'Best of the Best Awards'
10 Gennaio 2017 - a cura di PuntoCellulare.it
LG
CERCA
PuntoCellulare.it ti offre fino al 28 giugno un codice sconto del 10% per i tuoi acquisti su eBay.it di cellulari, smartphone e accessori. Scopri tutti i dettagli.
LG Electronics al CES 2017 ha ottenuto più di 90 premi, a partire dall'ambito 'Best of the Best Awards' di Engadget per il rivoluzionario nuovo LG SIGNATURE W7 OLED 4K TV fino a una serie di altri riconoscimenti relativi ai migliori prodotti presentati in fiera tra cui il W7 e per il frigorifero LG Smart InstaView. Oltre ai premi più importanti ricevuti dalle testate e magazine di tutto il mondo, LG ha conseguito21 CES Innovation Awards dalla Consumer Technology Association (CTA) nelle categorie home appliance, home entertainment e mobile communications.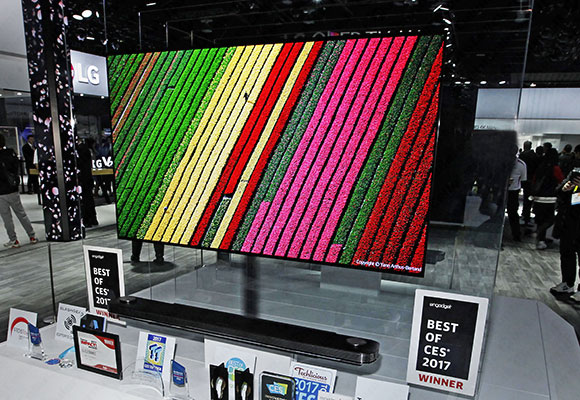 Al CES 2017 LG ha presentato i nuovissimi prodotti LG SIGNATURE, tra i quali LG SIGNATURE OLED TV serie W, che grazie all'innovativo design Picture-on-Wall, ha ricevuto più di 20 premi ed è stato uno dei dispositivi più ammirati dai numerosi visita-tori del CES. Il frigorifero LG Smart InstaView, dotato di un display LCD da 29' e caratterizzato del servizio Alexa Voice di Amazon e dalla funzionalità WiFi, è stato l'altro protagonista del CES ottenendo un ampio numero di riconoscimenti.
La lista dei premi ricevuti da LG al CES 2017, tra gli altri, comprende:
LG SIGNATURE W7 OLED TV
- Engadget Best of CES: Best of theBest, Engadget Best of CES: Best TV Product, Expert Reviews CES Top Picks: Best TV, Men's Health Editors' Choice Awards, TechRadar's 2017 CES Awards: Best in Show, The Verge: Best TV, Advertising Age Best of CES, BGR Best of CES, CNET Best of CES 2017: The Best Thing We Saw, Pocket-Lint: Best TVs of CES, CNN Money Coolest Tech Products at CES, Dealerscope Best of CES, FOX News 10 Best Gadgets at CES, PCMag Best of CES: Best Television, Popular Mechanics Best of/Editors' Choice CES Awards, Re-viewed.com CES Editor's Choice Winners, SlashGear: Best of CES, Sound & Vi-sion/What Hi-Fi Stars of CES, Stuff Magazine Best TVs of CES 2017, Techlicious CES Top Picks, TechnoBuffalo Reader's Choice Awards, TechRadar's 2017 CES Awards: Best TV, AVS Forum Best New Products of CES 2017, Tom's Guide Best of CES, Tweaktown Best of CES, TWICE Picks Awards: Video & TVs, T3 12 Best Gadgets We've Seen at CES, UberGizmo Best of CES, 9to5Toys Best of CES, EFTM Best of the Best
LG Smart InstaViewRefrigerator
- Expert Reviews CES Top Picks: Best Home Appli-ance, Reviewed.com CES Editors' Choice Winners, Consumer Technology Association 2017 CES Innovation Awards: Home Appliances, Stuff Magazine 9 Best Gadgets with Amazon's Voice Assistant, TechliciousCES Top Picks, TechnoBuffalo Reader's Choice Awards, TechRadar's 2017 CES Awards Best In-Home Gizmo, Tom's Guide Best of CES
LG Hub Robot
- SlashGear: Best of CES, WIRED Best of CES, The Verge: Best Robot, The Telegraph Best Tech of the Week, Stuff Magazine 9 Best Gadgets with Amazon's Voice Assistant, Chip Chick Best of CES
LG SJ9 Sound Bar
- Pocket-Lint Best Headphones and Speakers at CES, TechRa-dar's2017 CES Awards: Best Audio Accessory
LG SJ7 Sound Bar
- EFTM Best Home Entertainment
LG Multi-Functional Bluetooth Speaker
- Consumer Technology Association 2017 CES Innovation Awards: Portable Media Players and Accessories
LG ProBeam
- The Verge: Best Projector, Consumer Technology Association 2017 CES Innovation Awards: Home Audio/Video Components and Accessories
LG PJ9
- ZDNet: Best Smartphones, IoT Products at CES
LG Airport Guide Robot
- Advertising Age Best of CES
LG Signature OLED 65 G6
- Tech50+Boomie Awards: Best Television of the Year
LG Super UHD TVs
- Pocket-Lint: Best TVs of CES
LG Display 55-inch Transparent TV
- Mashable Best Tech of CES 2017, Chip Chick Best of CES
LG 65-inch B7 4K OLED TV
- The Wall Street Journal Best of CES, Consumer Technology Association 2017 CES Innovation Awards: Video Displays, Digital Entertain-ment Group Awards: Best 4K Ultra HD TV
LG Flat 65-inch Super UHD 4K TV
- TWICE Picks Awards: Connected Home Devices, Consumer Technology Association 2017 CES Innovation Awards:Home Appli-ances
LG 65-inch 4K OLED TV
- Consumer Technology Association 2017 CES Innovation Awards: Video Displays
LG 65-inch E7 OLED 4K TV
- Consumer Technology Association 2017 CES Innova-tion Awards: Video Displays
LG 65-inch 4K LED TV with Advanced Accessibility Technologies
- Consumer Tech-nology Association 2017 CES Innovation Awards: Video Displays, TWICE Picks Awards: Video & TVs, Consumer Technology Association 2017 CES Innovation Awards: Video Displays: Tech for a better world
LG 65-inch B7 4K OLED TV with Advanced Accessibility Technologies
- Consumer Technology Association 2017 CES Innovation Awards: Tech for a better world
LG 75-inch 4K ULTRA HD LED TV
- Consumer Technology Association 2017 CES Innovation Awards: Eco-Design and Sustainable Technologies
LG 31.5-inch 4-side Borderless UHD 4K HDR Monitor
- Consumer Technology As-sociation 2017 CES Innovation Awards: Computer Peripherals
LG K8
- TWICE Picks Awards: Smartphones & Tablets
LG V20
- Consumer Technology Association 2017 CES Innovation Awards:Wireless Handsets
LG G5
- Consumer Technology Association 2017 CES Innovation Awards:Wireless Handsets
MIGLIORI OFFERTE
COMMENTI DEI LETTORI